Our first destination is Skaftafell which is the oldest part of the Vatnajökull National park – about 135 kilometres away from our hometown Höfn. When we arrive in Skaftafell we want to head up to the glacier tounge Skaftafellsjökull. This glacier tounge has changed a lot the last years. While we are driving we will pass many glacier tounges which all are part of the Vatnajökull glacier.
In Skaftafell we are going to learn about melting glaciers. If you click on the picture below you can read more about how the glaciers are retreating and getting thinner.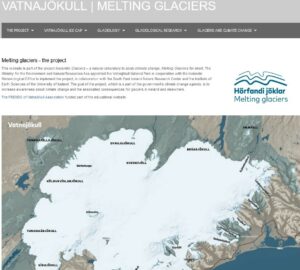 Material about melting glaciers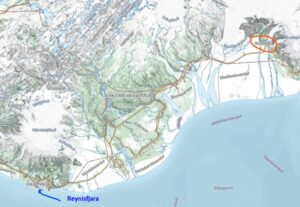 After the first streaming we have to drive further to Reynisfjara.  This route is about 150 kilometres from Skaftafell. Reynisfjara is one of the most famous destination for tourists in Iceland and at the same time on of the most dangerous. In Reynisfjara are very beautiful cliffs, some are made of column basalt and some of tuff. And very close to the cliffs is the Atlantic and the waves can be very strong and powerful.
The last years landslides are happening more often in Iceland and very often the reason can be connected to climate changes.
The reasons are for example more rain and more intense rain, increased coastal erosion, such as undercutting of coastal cliffs, due to higher ocean levels and larger and more frequent storms, and higher temperatures that can lead to the melt of permafrost, more frequent freeze-thaw cycles, and thermal expansion and retraction of rock. Climate change will also have an effect on the vegetation in Iceland, but should be positive as the vegetation cover should increase and extend higher up into the highlands.
Here are some information how climate changes can lead to more frequent landslides:
After the second streaming we will drive back to Kirkjubæjarklaustur which is a small nice village. We are going to stay the night there.
Fieldtrip 30st of September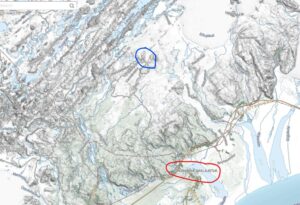 The second day we have to stay up early because we are going to Lakagígar which is a volcanic fissure connected to the hot spot in Iceland.   The Lakagígar system erupted violently over an eight-month period between June 1783 and February 1784. This eruption was also called the Skaftár Fire. And it had huge influence in Iceland and also in other countries. There are just about 53 kilometres form Kirkjubæjarklaustur to Lakagígar but we need 4×4 cars to get there. In Lakagígar we are able to see how the earth rifted for about 100 kilometres and where the magna erupted and builded many mountains and craters. This eruption almost made Iceland uninhabitable.
Here are more information about Skaftáreldar/Skaftár Fires: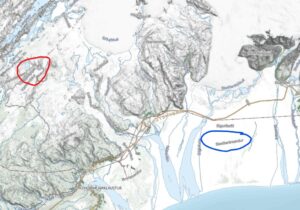 After the visit to Laki we have to go back to Kirkjubæjarklaustur and turn east again. Our last destination for streaming is on Skeiðarársandur which is about 120 kilometres away from Laki.  Skeiðarársandur is in the front of one of the largest glacier tounge in Iceland, Skeiðarárjökull which is a part of glacier Vatnajökull. Just about 40 years ago the sand was a like black desert and the progress of the vegetation has made a enorm changes. In the middle of the sand is a "new" forest growing and some of the trees is more than 3 metres high. At FAS we have 5 fields, each is 25 squeremetres. We take our students in natural sicence to the sand every autumn and do some research on the fields. This forest is so young than it has no name yet. And the progress of the vegitation is also connected to climate changes.